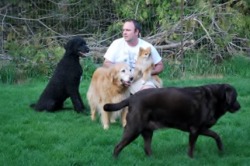 Welcome to Jeff's Dog Walking. A professional and independently owned dog walking service.
I understand how challenging it can be meeting the needs of your dog. That is why it is important for clients to know their loved one is in the hands of a professional who is reliable, honest, experienced and puts safety as a priority.
I will provide a fun and easy approach which will include a walk filled with exercise, play, socialization and the well-deserved attention they need.
Jeff's Dog Walking is now fully ACCOUNTABLE to yo
u, the dog owner.
An email will
be sent to you when I pick up the dog and drop them off. Now you will KNOW that
your dog is out having the fun they deserve.
Just an FYI - I absolutely LOVE the emails. It's a fantastic service. When another friend of mine needs a dog walker I'll be sure to recommend you!
-Sent to me by Scooby's mom
"Jeff's check-in system using barcodes and automatic email alerts is fantastic! I love getting the email at work when they are picked up and another when they are dropped off.
"
- Diesel and Coco's mom
I love it! Great idea. Thanks Jeff!
-Charlotte's owner
Only at Jeff's Dog Walking!
Contact me for more details.
In the growing business of dog walking there has been an increase in the number of large companies with numerous and high turnover of employees. Jeff's Dog Walking has been a small company for 15 years and will remain so, providing a personal touch.
You will know who is walking your dog and entering your house!
I am fully insured and bonded, pet first aid certified and have taken a course in animal communication
.
---